shower shelf

Individually designed showers
Thanks to PROSHELF the customer's requirement to have everything close to hand in the shower can be achieved very simply. No more awkward bending down in the shower for shampoo, etc. Anywhere a shelf is not built-in, the installer can now do this with the help of PROSHELF. The tileable shower shelf can even be installed retrospectively without damaging the tiles, by being slotted into the available joint.
Areas of use:
New builds and renovations
Versatile design options:
2 sizes
2 profile versions (round-edged or square profile)
3 stainless steel surfaces
4 different heights
Tile flooring can be built-in
Simple to process:
Can be used in any tiled shower
System concept:
Profiles suitable for the Proline collection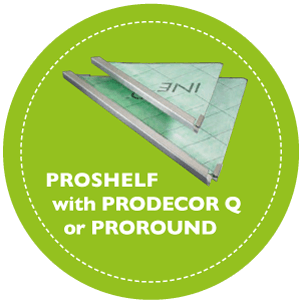 >>> Product brochure PROBOX & PROSHELF
PROSHELF with PROROUND
The round-edged profile, PROROUND, forms the basis for this PROSHELF variant. An elegant result thanks to the rounded face edge, which succeeds the tile profiles from the PROROUND series.
PROSHELF with PRODECOR Q
The face edge of PROSHELF and PRODECOR Q is pragmatic and above all, square. Surely the first choice for modern architecture and bathroom design, as it goes excellently with the styling and straight lines of modern tiles in the bathroom area.